Sell your products to
crores of customers
Sell on Amazon.in, India's most visited shopping destination
Help India mask up against COVID-19 by listing critical essentials
With upto 4X increase in customer demand for COVID-related essentials, customers need these products (e.g. face masks, sanitizers, PPE, medical equipment, etc.) now more than ever to handle the ongoing pandemic situation
If you are a manufacturer, supplier or distributor of these products, register to sell on Amazon now and help get them to customers across India
Why sell on Amazon?
Unbeatable reach
Crores
Reach crores of customers on Amazon.in, India's most visited shopping destination. You can expand further by selling globally
Stress-free delivery
100%
Deliver to 100% of India's servicable pincodes, through Easy Ship & Fulfillment by Amazon
Make money
4100+
The number of crorepati sellers on Amazon crossed 4100 in 2020. Who knows, you could be next
My business has grown by 9x this year on Amazon
Priya Tyagi
Co-founder, Tied Ribbons
How to sell on Amazon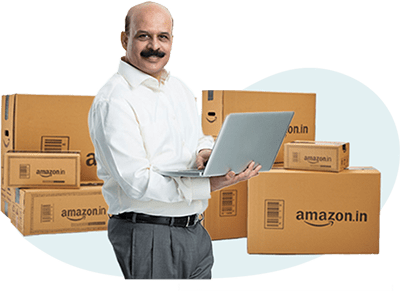 Become a seller
Create an account and list your products on Amazon.in. All you need to set up your account is your GST/PAN information and an active bank account
Customers place orders
Not only regular customers orders, you can also receive bulk purchases from business, too and receive input tax credit. With advertising, you can maximize your exposure
Deliver your product
When you sell on Amazon, you can choose how storage, packaging, delivery & returns are handled. With FBA or Easy Ship, Amazon will handle delivery & customer returns. You can also choose to ship the product yourself.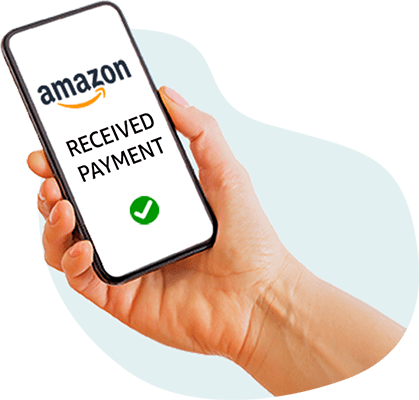 You get paid for your sales
Funds from your completed sales will be deposited in your bank account (deducting Amazon fees) every 7 days, even for Pay on Delivery orders.
Need help getting started?
SUCCESS STORIES
Why sellers choose Amazon
We ask our sellers why they chose to Sell on Amazon
Banarasi sarees find an online market
Our orders come from places we haven't even heard of.
From a small room in Periyakulam
I want to achieve something, I want to be a role model for my children
Rani
Periyakulam's first online seller
Loyal Customer to a successful seller
Last year, I made more than ₹7 lakh in sales. I don't have to go the customer, the customer comes to me
Common Questions
Products in-demand post COVID19
Face Masks & Gloves
Grocery
Clothes
Medical Equipment
Kitchenware
Shoes
Hand Sanitizers
Home Products
Beauty Products
Start your Seller Journey
Join our family of 7 Lakh+ businesses who sell on Amazon.in
It takes less than 15 minutes to register
*Disclaimer : All the content and images used in this page is copyrighted by Amazon only.