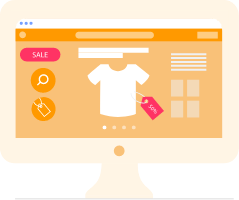 What is Amazon Easy?
Amazon Easy is an India First initiative which enables entrepreneurs to offer online shopping assistance to new-to-ecommerce audiences. Shopping assistance provided by store owners establishes a sense of trust and helps lakhs of customers take their first steps into e-commerce.
Looking to set up a Flagship Amazon Easy Store?
Key Benefits
Avail Demo products to aid Shoppers
Standardized Branding & Premium look and feel
Low Merchandise management
Earn additional with Delivery services
High earning potential with Incentives
Benefits of partnering with Amazon Easy
Enable your network of stores with Assisted shopping Services
Earn Commissions on Each order
Earn better with every Walk-in
High earning potential with Incentives
Benefits of joining us as a retailer
The Amazon Advantage
Opportunity to Partner with Amazon

Marketing Support from Amazon*

Comprehensive Sales and Marketing Training
The Growth Advantage

Low One-time investment of 11K*

Up to 12% Commission on Every sale
Additional incentive covered by R&R + Monthly Earnings
Interested in setting
up a store?
Interested in partnering
with Amazon Easy?
*Disclaimer : All the content and images used in this page is copyrighted by Amazon only.